Meet the team behind Beyond Credentials
Our mission: connect top talent with top companies in a better way.
Our Story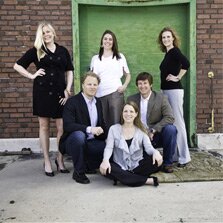 In the spring of 2008 it became clear to us that while students and alumni from the top Universities in the US had a perceived advantage in an extremely tough job market, they still needed a better way to authentically connect with companies they wanted to join. Technology, especially social media, enabled more people and companies to enter the marketplace of career opportunity, but technology wasn't helping the right companies really connect with only the best and brightest people. Every new service or site was everything-to-everyone and offered nothing to those who've paid their dues to prove their worth.
One thing we knew back then is that, no matter the hype of a popular trend, there will never will be a technological silver bullet to find a great career or a great candidate. The essentials: good education, performance, adaptability in a rapidly changing workplace and social skills for any occasion are key traits of a successful candidate. And forward thinking companies that seek only candidates with these traits are the foundation of our economy's future growth and prosperity in a paradigm shifting, service and knowledge based economy. That is why we only accept the top students and alumni from the top 250 Universities in the US and only innovative companies with real opportunity to join our site. Exclusive networking then becomes much more fruitful for everyone involved.
Over the course of the next two years we utilized our expertise (Andy in marketing and communications, Kevin in employment law and business practice) and consulted with top experts in multiple fields to develop our business model on the philosophy that less wasn't more. Less was just...less. Less crowded marketplace = better connections. Better connections = better business. That is why we only allow certain job seekers and companies to join our site. Then to further enhance the job seeker/employer connection we provide web 2.0 technologies and let our community use them as needed.
We will continue to innovate and enable better connections between those seeking a great career and those providing them.
To learn more about how we can help you, contact us.