Why use Beyond Credentials?
"Gone are the days of your resume being your self-promotion mainstay. Today it's all about earning a rock star reputation online. Attract the right job opportunities by explaining what you're passionate about and the types of jobs you're interested in."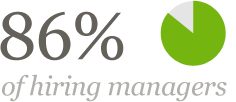 said that a positive online reputation can greatly influence their hiring decisions. See Source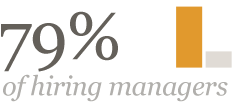 use the Internet to better assess candidates. See Source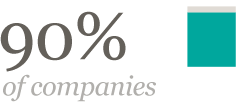 prefer a Beyond Credentials profile over a traditional resume. Client Survey

  of HR professionals have rejected candidates based on data found online but only...

  of candidates think online data affected their job search. See Source

are currently enrolled in college or graduate school. How do you stand out? See Source
Beyond Credentials profiles get

more attention than a traditional resume. Client Survey
Receiving a candidate's pitch-page was a refreshing sight from the pile of resumes I had been looking through and I was able to tell from my first impression that he would be a great fit for our company. I brought him in for an interview the following week and will be making him an offer!

Taylor's pitch-page gave me great insight into her personality, many things that would not come out in a traditional interview, so I felt like I already knew and liked her prior to meeting. I also feel that she was more comfortable expressing herself when the time came to meet in person because she had taken the time to create her page.

I worked hard to have a resume that I was proud of, but I still felt somewhat limited by having to summarize myself within the confines of a 9x11" sheet of paper. A pitch-page allowed me to expand on my experiences and give employers the whole picture.

I graduated with great grades from a solid University consistently ranked in top 150 Universities in America. But what really separated me from the competition was my personality and character. Beyond Credentials was an essential gateway that allowed me to get a foot in the door and showcase these attributes.